#top-section row-start col-md-7
About the event
Autism, Gender & Sexuality Conference - Leeds
In this brand new, one-day conference, we explore the relationships between autism, gender, and sexuality. Evidence suggests that there is a greater proportion of autistic people with gender dysphoria than among the general public. (Heylens G. et al, 2018) Also, that many autistic people identity as LGBTQI+ and that these identities may differ and fluctuate over a lifetime.
Why is there a high prevalence of gender and sexual orientation diversity amongst autistic people? What specific challenges do autistic LGBTQI+ individuals face? How can autistic people best be supported in exploring their sexual and gender identity?
Attendees will hear personal insight, reports of best practice, have the opportunity to put their questions to the experts and contribute to discussions.
Conference & Events Team E: conference@nas.org.uk T: +44 (0) 115 911 3367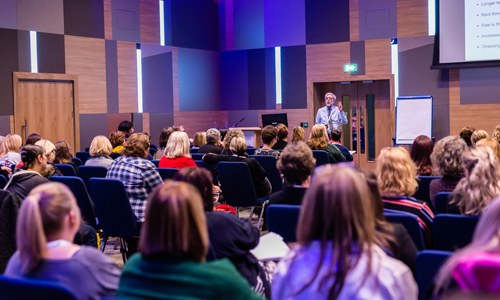 row-start colour-section col-sm-12
Key topics
Some of the key topics this conference will cover include:

row-mid col-xs-12 col-sm-6
Autism & Gender Identity
Supporting non-conforming gender identifying pupils in school
Healthy and rewarding relationships


Book now
row-end col-xs-12 col-sm-6
How autistic individuals form a gender identity
Sexuality - figuring it out, and finding support
Panel discussions
center quote-section col-xs-12 row-start quote
Confirmed Speakers
We have gathered together some of the most highly respected professionals in the industry to discuss the role in scaling companies in today's environment. Among our esteemed speakers and panelists are:
View all speakers
Why Attend?  
Hear the UK's leading experts provide insights into strategies to support autistic people.  
Be inspired by first-hand accounts of the unique issues that affect autistic people and what you can do to help.
Learn practical strategies for adapting your practice and improve how you deliver support.
Discover new ways of enabling autistic people to get their voice and choices heard.
Meet and network with other professionals and experts in the field.
info-section row-start col-xs-12
Fees
| | |
| --- | --- |
| Early Bird Rate (Limited Availability) | £195 + VAT |
| Standard Rate | £225 + VAT |
| Members Rate | £175 + VAT |


| | |
| --- | --- |
| Autistic Individuals / Parents / Carers | £95 + VAT |
| Exhibitors | £295 + VAT |
| Additional Exhibitor Pass | £175 + VAT |
Please call 0115 911 3367 or email conference@nas.org.uk before proceeding to book the autistic individuals rate or members rate, in order to gain a link for these rates. These rates are for the above noted who will personally be paying for their place and not via an organisation or for those with a valid membership number.
quote-section row-start row-end col-xs-12
What an inspiration, personally and professionally! I have so many new ideas ready to use and apply!
center colour-section row-start col-xs-12 row-end
Register
Don't miss out, register and get your ticket.
Book now